Saturday, February 5th, 2011
Today was yet another day dedicated to "Prema Bandham", Bond of Love between Bhagawan and His Students. A group of 120 students from Batch 2006 of SSSIHL has been blessed by Bhagawan this evening in a session held in the Poornachandra Auditorium, along with immediate family members.

Emerging just after 1805 hrs. Bhagawan appeared in the auditorium, received with Poornakumbham and Veda chanting. Spending more than half-an-hour inside, Bhagawan sat through a session of songs and speeches by students and some of the parents. Moving amongst, through the rows, Bhagawan blessed the entire group of over 300 with Padanamaskar. Watches were distributed to the entire group as a token of Divine Love.

Earlier, commemorating the occasion, the dedicated batch offered a defluorination project in one of the villages in the outskirts of Puttaparthi. The project would serve over 500 people and has a capacity of 15000 litres.

After the session in the Poornachandra, Bhagawan arrived at the Sai Kulwant, at 1845 hrs. Blessing the CEO of Tata Consultancy Services, N.Chandrasekharan, Bhagawan cut across the Verandah, blessing many more before coming on the to the dais at 1900 hrs. from the right of Ganesha. In another five minutes Bhagawan accepted Mangala Arathi, at 1905 hrs., and retired to Yajur Mandiram at 1910 hrs.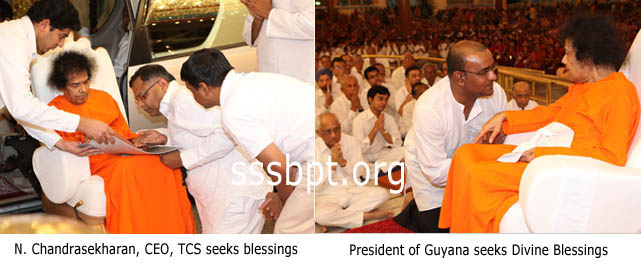 The President of Guyana, His Excellency Bharrat Jagdeo was in Prasanthi for evening Darshan. Before retiring to Yajur Mandiram, Bhagawan interacted and blessed the President and his escort.

Posted in Prasanthi News |