Thursday, August 4th, 2011
Taking a leaf of inspiration from Bhagawan, carrying the mantle of His precious Divine Teachings, a group of youth from Australia under the banner, Sai Youth Australia, staged a musical programme in the Sai Kulwant Hall this evening. The programme commenced at the end of half-an-hour Vedam chanting, just after 1700 hrs., with customary offering at Bhagawan's Maha Samadhi.
Beginning with an invocatory song in Telugu, "Jagamula…" the group continued with "Sathya Sai We Love You…" before bursting into a commentary, dwelling upon, reminding themselves of Bhagawan's advice during the group's previous visit last year, to share love with all. With this they sang "Swami, We Are Your Youth Australia…" that was followed by an often heard Telugu number. One more Telugu song followed, that glorified the importance of service, yet another familiar song, "Sai Maatha Biddalame Andharam…" which was followed by a "Qawwali "Meri Muhabbat Mera Khuda Hey…".

The group ended the programme, expressing gratitude to Bhagawan, praying for continued guidance to move in the path shown by Him, following His advice "service begins at home…". Students took over to sing bhajans for the next fifteen minutes before Mangala Arathi at 1800 hrs. Special Prasadam was distributed at the end of the programme.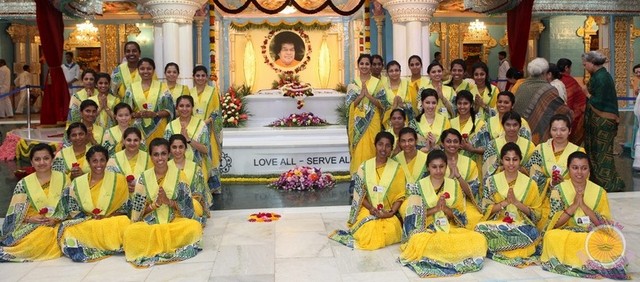 The group from Australia comprised of around sixty members, 35 ladies and 25 gents.

Posted in Reports |