Saturday, April 4, 2020
Continuing the rich and infinite legacy of Beloved Bhagawan Sri Sathya Sai Baba, diligently following His FootSteps, Sri Sathya Sai Central Trust today contributed Rs 5 crores to the Andhra Pradesh Chief Minister's Relief Fund enhancing the State Government's fight against the global pandemic coronavirus. read more »
Click here for more articles in Prasanthi News…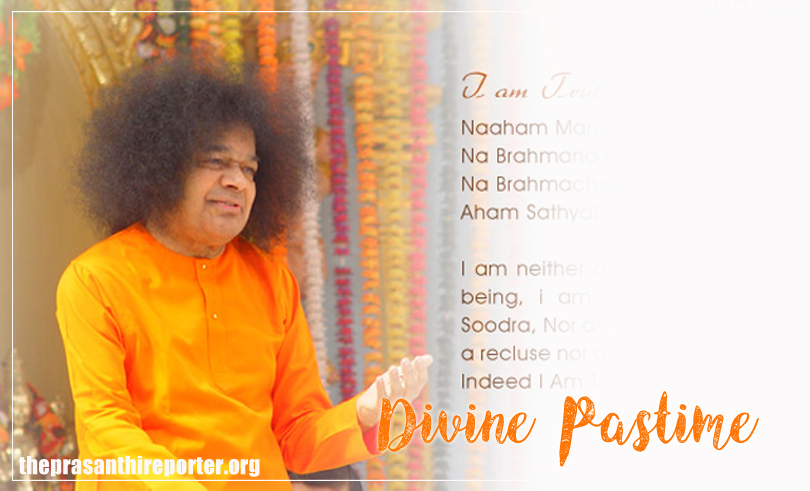 Thursday, April 9, 2020
When God Supreme is credited with the creation of the very visible and all invisible realms of existence, He and He alone can authentically speak of His mysterious creation. Bhagawan Sri Sathya Sai has often made profound revelations about His projected creation and His role as the Master Creator. God initiates man into innocent, tender, loveable and loving childhood, and what does he do in turn… Read on Bhagawan Sri Sathya Sai…

read more »
Posted in Divine Foot Prints, Indelible Impressions, Sai Spiritual Showers, Sathya Sai Speaks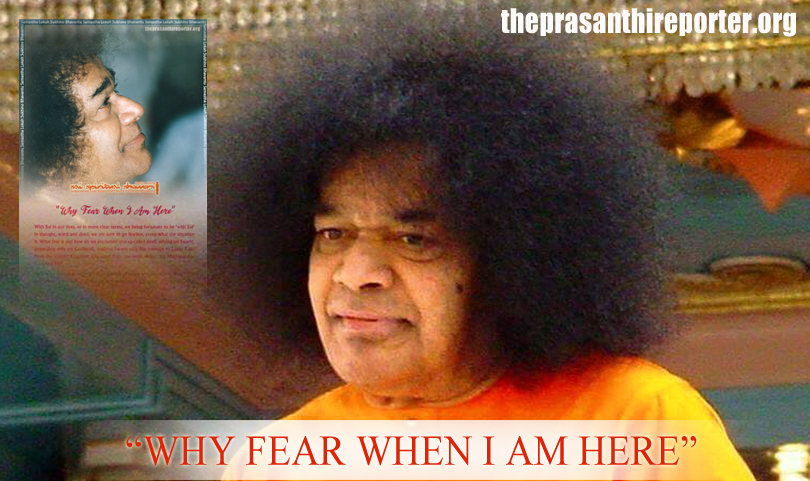 Thursday, April 9, 2020
With Sai in our lives, or in more clear terms, we being fortunate to be 'with Sai' in thought, word, and deed, we are sure to go fearless, come what the situation is. What fear is and how do we encounter this so-called devil, relying on Swami, depending only on Godhood, explains Swami vide His message to Lucas Ralli from the United Kingdom. Extracted from the book series, 'Sai Messages For You And Me'. read more »
Posted in Sai Spiritual Showers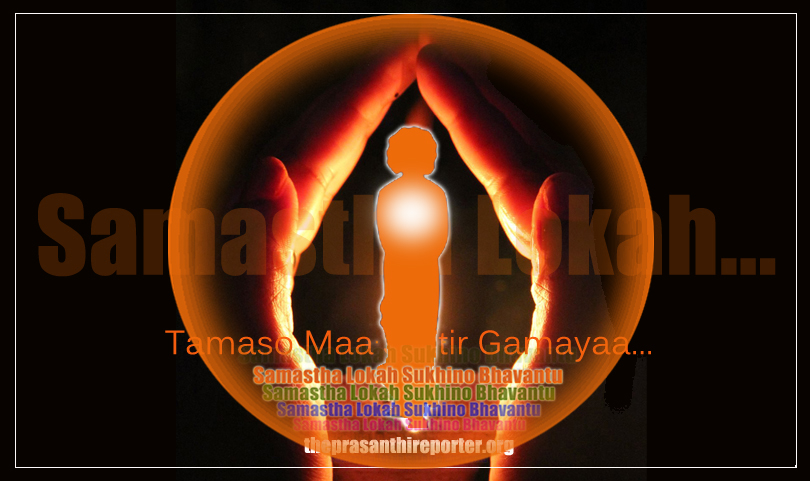 Saturday, April 4, 2020
Illuminate, Elevate, Resurrect Humanity, Oh! 2020, Fulfil this cherished quest…Manifest Divinity…thus concluded our poetic greetings on the NY eve, wishing the whole of humanity a bright and prosperous 2020.
Subsequently, the Year 2020 took off and was having a smooth, comfortable ride in the first couple of months, not before the early signs of a looming threat, from a so-called disastrous coronavirus, started gaining substantial ground. The virus that had originated in a Chinese city soon started spreading over, finally 'forcing' and 'enforcing' itself to become a disastrous pandemic, something which neither the current generation nor any of the recent, preceding generations have ever witnessed or experienced. read more »
Posted in Reflections, Sadhana - The Inward Path, Straight From The Heart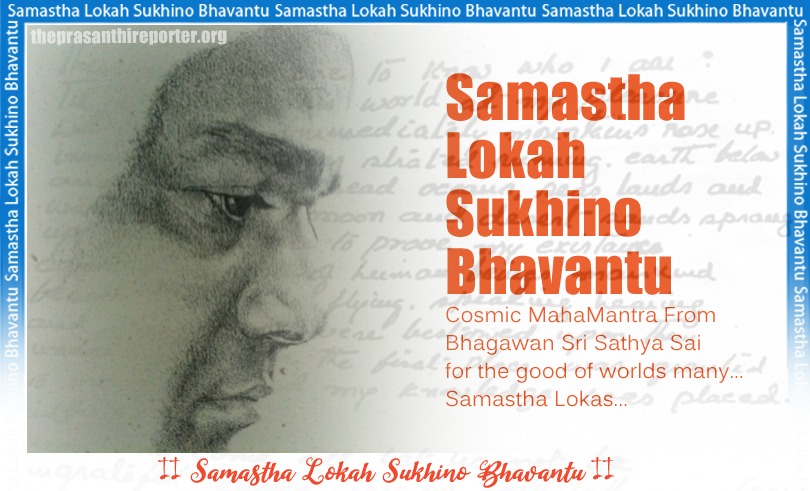 Friday, April 3, 2020
For the jeeva (individual) who is made in His 'own' image, is there anything bigger or better or more important than knowing his own self, The Truth behind his existence? When he does this, the world around him pales into insignificance, establishing him in Oneness. And for those devout folks, who with passionate devotion follow Him, The Avatar Supreme Bhagawan Sri Sathya Sai, there can be nothing beyond than THE COSMIC BEAUTY BEYOND COMPARE!!! read more »
Posted in Reflections, Reliving Timeless Memories, Sadhana - The Inward Path, Sai Spiritual Showers, Sathya Sai Speaks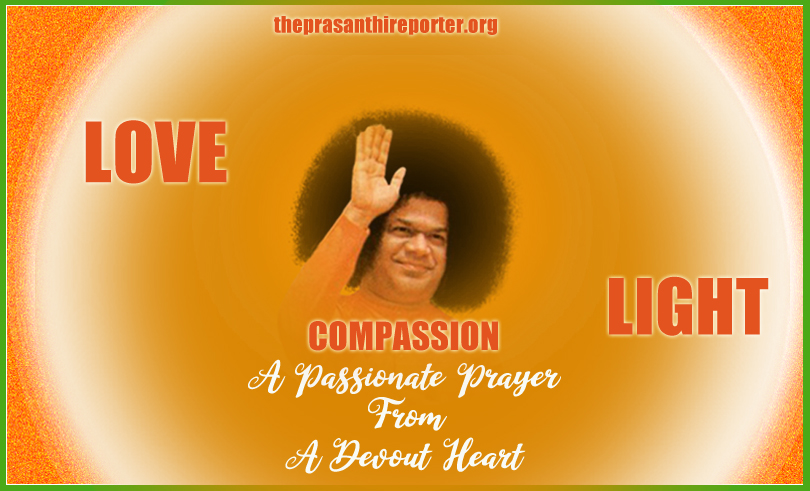 Thursday, March 26, 2020
At a time when the planet earth is facing a global pandemic threat via the dreaded coronavirus, devotees all the world are into a sadhana of prayers to our All-Mighty Lord Supreme, Beloved Bhagawan Sri Sathya Sai. Inspired from within, we have received a sincere prayer from a heart full of love and devotion, from far of Wellington, New Zealand, invoking Beloved Bhagawan's love and compassion to help the whole of creation during this testing phase. A prayer from Ms Revathi Sundar, Wellington, New Zealand.  
Listen to the audio file here: A Passionate Prayer To Beloved Bhagawan
Posted in Straight From The Heart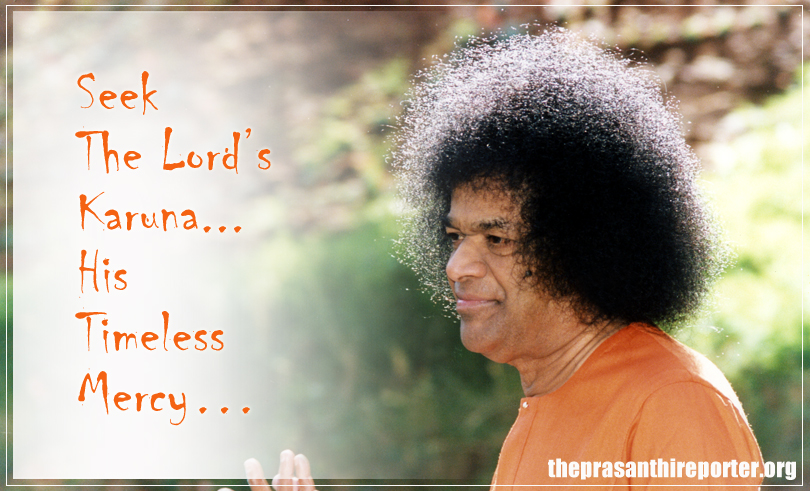 Wednesday, March 25, 2020
25th March stands significantly distinct for a holistic reason. It was on this day, nine years ago, Supreme Lord Incarnate Bhagawan Sri Sathya Sai granted His final Darshan, until today. Today, as we come back to the same circle of this mysterious March, India and the globe around, is in the grip of something new. Global Pandemic coronavirus is looming large over the whole of Earth, a sheer danger to humanity at large. Read on a thought-provoking message from Sri Jullie Chaudhuri. 
Invoking An Awakening (see the pdf link for the Sadhana Aradhana Month Of Sadhana prescription by SSSSO – India)
Posted in Reflections, Sadhana - The Inward Path, Sadhana Aradhana, Sai Lent, Straight From The Heart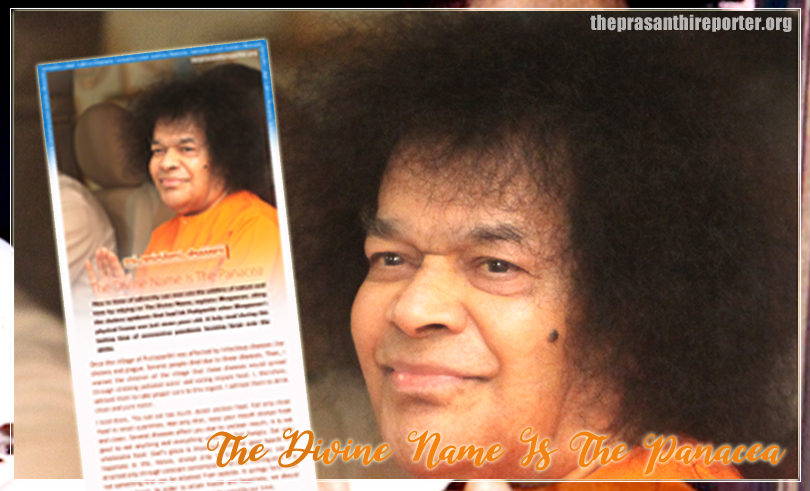 Wednesday, March 25, 2020
How in times of adversity can man win the oddities of nature and time by relying on The Divine Name, explains Bhagawan, citing the cholera epidemic that had hit Puttparthi when Bhagawan's physical frame was just seven years old. A holy read during this testing time of coronavirus pandemic looming large over the globe. read more »
Posted in Sai Spiritual Showers, Sathya Sai Speaks, Sathyam Sivam Sundaram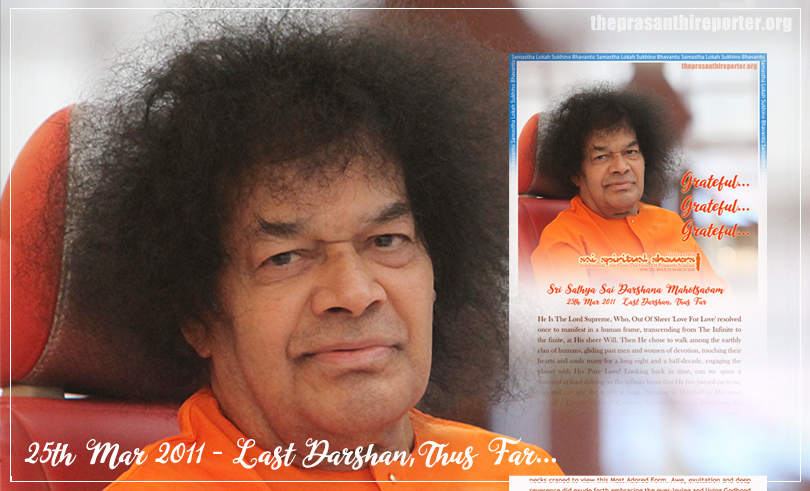 Wednesday, March 25, 2020
He Is The Lord Supreme, Who, Out Of Sheer 'Love For Love' resolved once to manifest in a human frame, transcending from The Infinite to the finite, at His sheer Will. Then He chose to walk among the earthly clan of humans, gliding past men and women of devotion, touching their hearts and souls many for a long eight and a half-decade, engaging the planet with His Pure Love! Looking back in time, can we spare a moment at least delving on the infinite boon that He has passed on to us, you and me and the world at large, bringing in HimSelf in His most adorable Beauty Beyond Compare human frame, as Bhagawan Sri Sathya Sai?!? What greater bliss could there be to ask for, than having The Infinite Essence amidst us in His hallowed human frame?!? Let's ever remain Grateful!…Grateful!!…Grateful!!! read more »
Posted in Reflections, Reliving Timeless Memories, Sai Spiritual Showers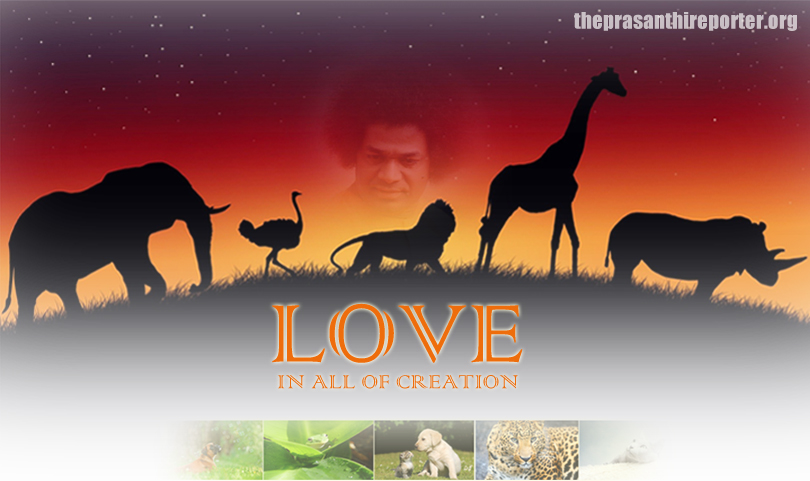 Thursday, March 5, 2020
"Love is present not only in human beings but also in all creatures, birds or beasts.   Nor is that all; it is in fact all-pervasive.  Love pervades everything in Creation. Man's humanness is vitiated when he fails to recognise this love", said Bhagawan Sri Sathya Sai Baba. Man, who is considered as the top-ranked creature in the evolutionary ladder is often found lacking, lagging behind in practising 'LovE'. Today, when he falters, owing to the 'timely' influence of the Age Of Kali, he can better learn from the world of mute children of Beloved Mother Sai, of practising LovE. A story from the Shirdi Baba time followed by another one from the collections of late (Ms) Mercini Sherrat of the UK, a champion crusader for the world of Sai's mute children.  read more »
Posted in Animal and Nature, Sai Spiritual Showers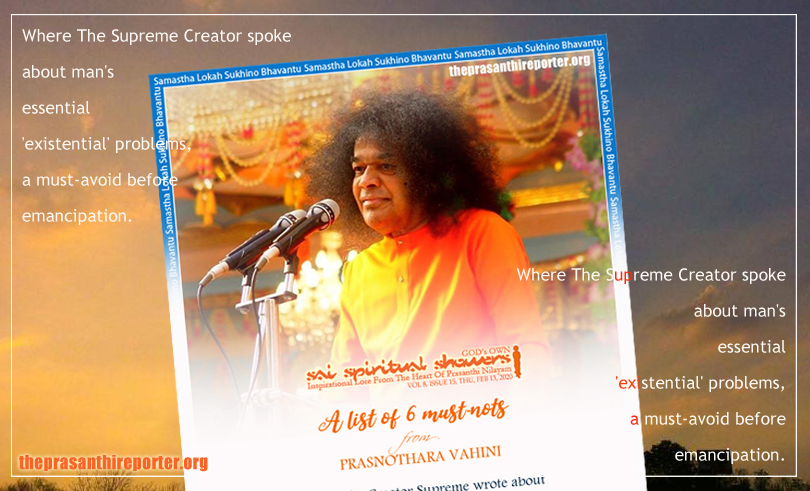 Thursday, February 13, 2020
Every thought, word and deed which was not in sync, that was negative, harmful in intent, thoughtless, uncaring, acutely insensitive, horrifyingly arrogant, cruel and abusive to any living being or the minutest part of creation, was indeed an arrow, an arrow towards man's self-existence. read more »
Posted in Sai Spiritual Showers