Bhagawan Sri Sathya Sai Baba

His was the advent that was a silver lining, glittering in golden! Two decades before independence, when the country was suppressed and was clamouring for freedom from the British, in a remote village in Andhra Pradesh was born a little boy by name Sathya Narayana Raju. His birth was no less significant, but in line with the promise of the famous Gita verse, "Parithranaya Sadhuunam…"!  Sathya Narayana Raju's birth was the fulfilment of the word of Bhagawan Sri Krishna over 5230 years ago, given to Arjuna.  His Story may sound utopian, but it is verily the True Story. He came, beyond any doubt, at the most significant of times, when the world was in disarray and needed a healing touch.
He came to be known as Bhagawan Sri Sathya Sai Baba, and with this began the all-conquering, incredible Sai Sojourn!  Human destiny was scribbling out its unique history, erasing the void and filling in with the vivid. Basking in His glory of selfless love, the wise recognized Him to be the personification of Divinity.
He came to walk on the earth this time neither with a bow and arrows, nor a flute and discus; neither as a powerful prince of prowess and statesmanship nor as a kingmaker, but much more than that, since, the battles to be fought and won are on the intellectual plane. Physical prowess and conventional warfare had to take a backseat this time. Their place has been taken by penetrating powerful words of wisdom and disarming Pure Love, the splendour and majesty remaining the same as a rule.  The assurance given more than five thousand years ago at the beginning of the Kali Age thus became a fulfilment on the 23rd of November 1926 when the present Avatar Bhagawan Sri Sathya Sai Baba was born at Puttaparthi, an insignificant, underdeveloped and remote village in the Anantapur District of Andhra Pradesh.
He says: "Yes, I am God and so are you.  The only difference between you and I is that while I am aware of this fact, you are not."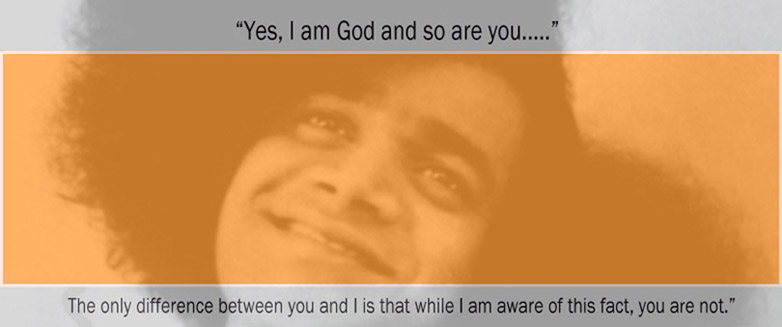 And this is no casual remark. Indeed, inherent in this small, but extremely significant statement is the fundamental truth of humanity's divine nature – its true reality; and revivifying the heart of every human being to this salient truth is the mission and message of Bhagawan Sri Sathya Sai Baba. Very aptly, Baba begins His every discourse, addressing the gathering as, "Embodiments of the Divine Atma".
All who listen to Him, experience His unconditional love, benefit from His caring counsel and witness His supernormal supremacy over mind and matter, which give a real glimpse of the glory and majesty of God, and therefore, of the infinity that each human potentially and inherently is.
Crime has overtaken compassion, anger has replaced adoration, greed has swallowed gratitude, and selfishness has drowned selflessness and sacrifice…
Like His previous avatars, this time also He chose His father and mother for His earthly career.  The choice fell on Pedda Venkama Raju of the Ratnakaram family and Mother Easwaramma, whose lives were sanctified and glorified for posterity to remember.  Motherhood  received a greater measure of respect and honour, which was probably its due.  What He could not (or did not?) do for Mother Kausalya in the Thretha yuga, He fulfilled in the Dwapara yuga, and what still remained, in Kali Yuga.  If Mother Kausalya had to suffer pain and agony at the separation of Rama while He was in exile, it was amply compensated when Mother Devaki and Father Vasudeva were emancipated from the clutches of his uncle, the devilish Kamsa.  He also gave joy and grace to Mother Yashoda by making her His foster mother.  So, the fortune of one was divided for the two as both – chosen by Him only – deserved that grace.  Yet, He was not satisfied in rewarding them.  Perhaps He chose two more this time – Mother Easwaramma as His Devaki and Mother Subbamma as His Yashoda.  How fortunate these mothers are!  Their names are inked in golden letters in human history.
The baffling experiences and the mind-boggling miracles that followed and the unlimited glory that brought even the toughest and the greatest to the fore, to kneel before Him and seek His blessings, convinced even His adamant elder brother Sheshama Raju, the Telugu Pundit of Kamalapuram School, with whom He lived for a few years, though the elder brother wished to educate Him to become a Government servant.
As a child He was not only precocious, but demonstrated exemplary divine qualities of compassion, forbearance, generosity and wisdom which distinguished Him from all children of His age in the village.  The Divine child was recognized only by the centurian grandfather Kondama Raju, who discovered much to his joy and wonder, that the Lord had only fulfilled his prayers as foretold by the celebrated Venkavadhoota (a realized soul – an anchorite of wisdom) of his family whom the former revered like a guardian angel.  The boy Sathyanarayana Raju was miraculous even as a child.  He would take out peppermints and sweets from nowhere for His classmates who looked at Him with awe, wonder and adoration.  They conferred on Him the title 'Guru' as His wisdom was sufficient to command respect from even His teachers.  Then came the enunciation on the 20th of October 1940, at the age of 14, that He, as the reincarnation in the form of Sai Baba, had to respond to the call of His devotees for whom He had come and was, therefore, no more the 'Sathya' of His family members.  This startling revelation marked the beginning of His avataric mission.  Crossing over to the garden of Shri Anjaneyulu, the next door neighbour of His elder brother, He sat on a stone block to teach those who had collected around Him and to the whole universe the first prayer:
"Manasa bhajare Gurucharanam
Dustara bhava sagara tharanam"
(Meditate in thy mind on the feet of the Guru; that can take you across the turbulent sea of samsara).  Young Baba was given a rousing welcome at Puttaparthi.  He took residence at the house of Subbamma, His 'mother Yashoda', who looked after Him and His ever-growing number of devotees. His mission was further amplified in a letter He wrote to His brother Sheshama Raju on 25th May 1947 in answer to the fear and anxiety the former had expressed out of fraternal love.  He said: "I have a task to foster all mankind and ensure for all of them lives full of bliss.  I have a vow: To lead all who stray away from the straight path, again into goodness and save them.  I am attached to a work that I love: to remove the sufferings of the poor and grant them what they seek".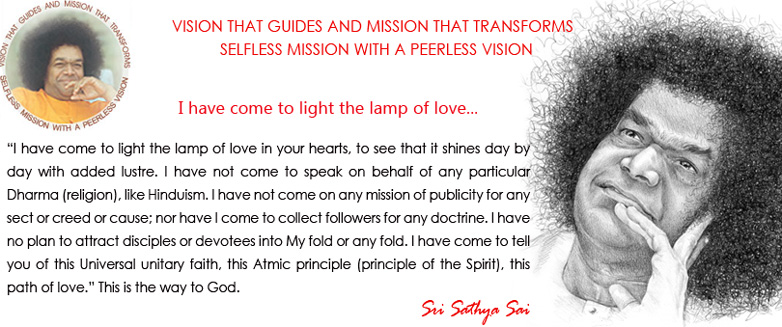 Subsequent years witnessed His multifaceted personality in action on all fronts of human activity, mainly, spiritual, educational and service.  The avatar made it clear that the objectives of His avataric mission would consist mainly of Vedaposhana (fostering of the Vedas – the repository of wisdom) and Bhaktasamrakshana (protecting and fostering of His devotees).  The former broadly included the propagation of Vedic philosophy and Indian Culture and preservation and dissemination of ancient wisdom enshrined in the scriptures.  The latter, namely, Bhaktasamrakshana, covered a wide variety of subjects offering succour, whenever and wherever they were physically or mentally in distress, medical treatment through special institutions like Super Speciality hospitals, establishment of educational institutions for the overall development of the human personality, providing pure drinking water through huge water projects, housing and monetary help to the poor and the destitute, Narayana Seva (feeding  the less privileged) and clothes distribution through students under village seva activities, overall development by adopting villages all over the country through Sri Sathya Sai Seva Organisations and umpteen number of activities aiming at the welfare of human society, all free and with no discrimination.
When God undertakes any activity directly, its expansion is unlimited and the beneficiaries innumerable.  The Primary School He started to fulfil the desire of Mother Easwaramma, has grown into a full-fledged university. The small hospital opened to meet the medical exigencies of the village has now become a gigantic world class hospital. The water projects, Sri Sathya Sai Central Trust has undertaken for Rayalaseema Region and subsequently for Mahboob Nagar and Medak districts, and not to miss the gigantic water supply scheme for the capital city of Tamil Nadu, Chennai, is providing the most essential thing in life, pure drinking water to lakhs and lakhs  across these regions.
And with the years passing by, many more projects and many more happenings! His is a Mission with a Vision and it goes on…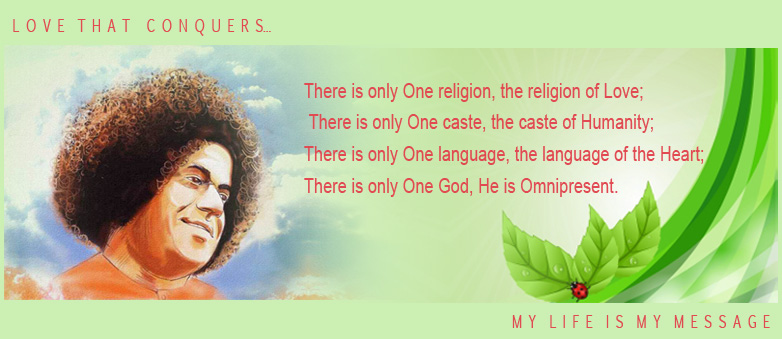 He says, "My Life is My Message". Every move of this Divine Persona on Earth is to be rightly tracked, to be imbibed by the millions and billions of lives on earth; every gesture of this Divine Phenomenon is to be rightly noticed to be engraved in the hearts of billions, every word oozing out from those Divine Lips is to be properly marked, for these words carry precious gems of Wisdom; every moment in His life is to be captured in the hearts of men for He lives a life full of His message, walking the talk, moment after moment in the most selfless style.
God is now here, radiating the love of a thousand mothers and thus preparing us to embark on the ultimate journey – the direct flight to Divinity, the journey within!!!
Samasta Lokah Sukhino Bhavantu